See foals and adult Lipizzans at one of the largest breeding farms on the East Coast, Touchstone Acres. Located about an hour's drive from Washington Dulles International airport, Touchstone Acres is situated on 51 acres of rolling land in the northern Shenandoah Valley. The farm's web site is:
See some lovely Lipizzans for sale on the Yahoo equestrian group Lipizzans for Sale!
At Touchstone Acres, we expect two purebred foals in 2011, the first in early April to 280 Betalka V. The second is due in May, to Aloka, by the black Neapolitano XXIX-18 in The Netherlands.
We had a special purebred foal in 2009, a colt, on May 17. His name is Neapolitano Altamira. He is one of 2 offspring of Neapolitano Amiata, imported from Italy by Polly DuPont.
In 2008 we had three lovely Lipizzan foals, two fillies and a colt. They will begin grouind work this season.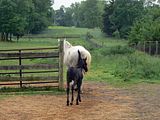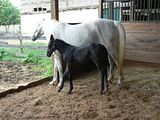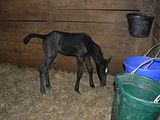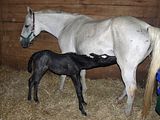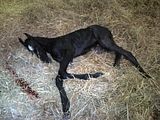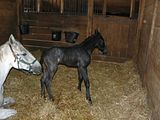 Of course the Spanish Riding School is is a must see if you are in Austria. In March each year the newest young stalllions are brought from the Stud at Piber to the SRS for training. In March 2009, eight were brought to Vienna; See the press releases and pictures here:
The Stud at Lipizza (Lipica) in Slovenia is a short drive from Trieste, Italy. Lessons, carriage rides and performances are available May to September in a resort setting. See their web site:
Where to see Lipizzans in the Movies

Ben Hur - 1976
Paul Newman movie Buffalo Bill - Pluto Calcedona from Raflyn farm
Florian
Miracle of the White Stallions - This is the story in the Disney movie: Colonel Alois Podhajsky trained the SRS stallions in Vienna. He transferred them to St. Martin in Innkreis, Upper Austria. Ten horses and two riders traveled by train 250 miles. When American troops occupied the area, a performance was given in honor of Gen. Patten. He agreed to rescue the mares from Hostau and returned all the school stallions and broodmares to Colonel Podhajsky. Actually Col. Reed did under orders from Patton. He set up an interim school in Wels, where he had first learned to ride in the cavalry. It was not until 1955 that the Vienna school was ready for them to come home.